mercoledì, 30 aprile, 2014, 17:39 - Generale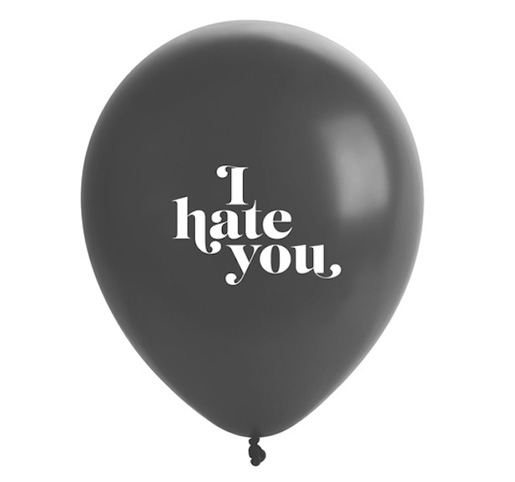 Shauna Luedtke is an art director and a graphic designer based in Canada. She has made a very funny series called "Jerks Balloons" in which she tells messages to her ennemis by playing with a variety of typographies created by Neil Summerour, Ale Paul, Stephen Rapp and Mark Simonson.
[ commenta ]
|
[ 0 trackbacks ]
|
permalink
---
martedì, 29 aprile, 2014, 15:03 - Generale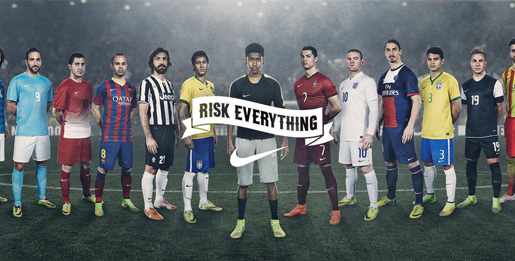 Os órfãos da premiada campanha da Nike para a Copa de 2010 (Escreva o Futuro), não se animaram muito desde o lançamento da primeira parte da campanha Arrisque Tudo para o Mundial deste ano. Entretanto, a marca acaba de divulgar um novo filme da campanha e, acredite, este não deve deixar ninguém decepcionado.
A peça chamada "Quem Ganha Fica", que estreia hoje (25), mostra garotos que se transformam em craques durante uma pelada como Cristiano Ronaldo, Neymar, Ibrahimovic e Wayne Rooney. "Nos conectamos com a paixão dos atletas pelo futebol, quer sejam os melhores do mundo que vão jogar no Brasil, ou jogadores de parques e ruas. 'Quem Ganha
Fica' expõe sentimentos comuns dos jovens atletas ao redor do mundo: competir com os amigos, jogar com os seus heróis, ou sonhar em ser um deles", comenta Davide Grasso, CMO da empresa.
O filme começa num parque com dois grupos de amigos se desafiando para um jogo no qual "quem ganha fica" – Essa característica é comum de peladas em que cada time é composto por 3 ou 4 jogadores, e os jogos são disputados num sistema de rotação onde o time que ganha a partida fica na quadra para enfrentar o próximo adversário. Logo de cara, o desafio é lançado e as apostas são feitas: "Então, acho que sou o Cristiano Ronaldo", declara um deles.
"Temos orgulho da nossa história de campanhas de futebol divertidas e inspiradoras, que se tornaram um dos temas das conversas nos grandes campeonatos. Acreditamos no futebol corajoso, alegre e emocionante e é esse ponto de vista que desejamos divulgar", acrescentou Grasso. "Arrisque Tudo é sobre isso. Se você estiver preparado para correr riscos, não há como prever o que você será capaz de fazer", complementa.
"Quem Ganha Fica" tem direção criativa da Wieden + Kennedy.
[ commenta ]
|
[ 0 trackbacks ]
|
permalink
---
lunedì, 28 aprile, 2014, 16:05 - Generale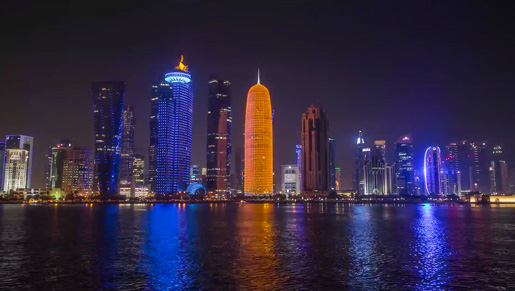 With the pictures and the editing of Michael Shainblum, Hussam Maatouk has directed this video in timelapse called "Welcome to Doha" which makes us visiting this city of Qatar, in its architecture and its dynamism at night and at day. A video to discover below.
[ commenta ]
|
[ 0 trackbacks ]
|
permalink
---
domenica, 27 aprile, 2014, 18:29 - Generale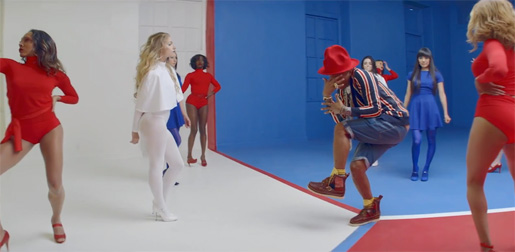 Here's the new music video of Pharrell Williams, directed by Luis Cervero, for his song "Marilyn Monroe" from his new album "GIRL". A big tribute to women of all kinds, styles, origins, places and beauties, all dancing around him. A video full of joy and colors to watch below.
[ commenta ]
|
[ 0 trackbacks ]
|
permalink
---
sabato, 26 aprile, 2014, 19:06 - Generale
Teams from WWF Nepal have partnered with Google Glass to take us with a very nice video in search of rhinos, to better understand the behavior of the animal and help the survival of the species. Wonderful creation, showing through the eyes of Sabita Malla technology can in some cases help us preserve an ecosystem. To discover in the future.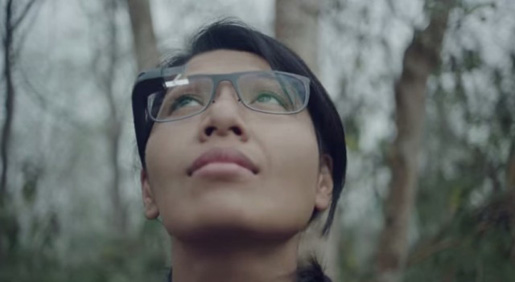 [ commenta ]
|
[ 0 trackbacks ]
|
permalink
---
Indietro
Altre notizie