mercoledì, 3 aprile, 2013, 16:28 - Viral marketing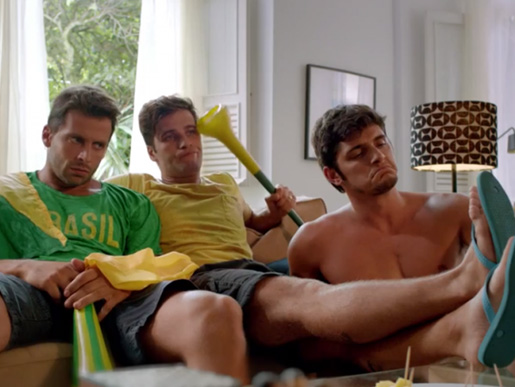 O trio formado pelos atores Henri Castelli, Bruno Gagliasso e Bruno Gissoni estará no novo comercial da Havaianas e será veiculado em todo o Brasil até o fim de junho deste ano.
O filme "Amuleto da Sorte" mostra que a sandália mais famosa do Brasil é, também, uma paixão nacional, como o futebol. Criado pela AlmapBBDO, ele aproveita um encontro entre amigos para destacar que Havaianas, além de agradar a todos os estilos e gostos, está no coração dos brasileiros. E é por isso que todo mundo usa.
O encontro se dá diante da TV, enquanto os três assistem ao jogo de futebol entre Brasil e Itália. O comercial abre com Henri, Bruno Gagliasso e Bruno Gissoni reunidos na casa de um deles para assistir à partida. Todos estão de Havaianas, e Castelli percebe que Gagliasso está usando Havaianas surradas .
Caçoa com ele, mas Bruno rebate argumentando que aquelas são as suas "Havaianas da sorte" e que o Brasil vence sempre que ele usa o par. Segue o jogo que, para decepção dos três, acaba em empate. Gissoni, então, brinca com o xará: "É, Bruno, esse amuleto não está funcionando não..." Mas não é bem assim.
A cena corta para a Itália, onde a situação se repete entre amigos italianos e um deles comenta com o outro, que também usa Havaianas velhinhas, que "questo amuleto non funziona". Mal sabem eles quanto os amuletos funcionaram! A locução, em off, fecha o filme: "Havaianas. Todo mundo usa".
|
[ 0 trackbacks ]
|
permalink
---
martedì, 5 marzo, 2013, 15:07 - Viral marketing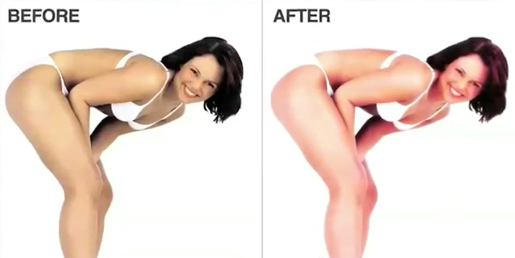 Dove always celebrated the power of real beauty; real women with real shapes. Dove developed a Photoshop add-ons that tagged at art directors, graphic designers and photo retouchers and whose message was "don't manipulate our perceptions of real beauty". Each time the target group used the add-ons, it reverted the photo to its original state, instead of adding a skin glow effect.
|
[ 0 trackbacks ]
|
permalink
---
lunedì, 4 marzo, 2013, 11:36 - Viral marketing
|
[ 0 trackbacks ]
|
permalink
---
domenica, 16 dicembre, 2012, 12:59 - Viral marketing
Super creative commercials for World Aids Day. The pictures in the videos correspond to words commonly used to refer to sexual organs. The message is straightforward without revealing everything. What do you think?
|
[ 0 trackbacks ]
|
permalink
---
sabato, 15 dicembre, 2012, 17:20 - Viral marketing
Maurice Lévy, Publicis' CEO, gives his best wishes for the new year every year. The videos are long and a bit boring and people usually skip some parts. This year, he created an interactive clip on YouTube. Every time you'll try to skip some parts or just pause the video, he'll tell you something funny. Just watch the video on YouTube, pause or skip and enjoy!
|
[ 0 trackbacks ]
|
permalink
---
Indietro
Altre notizie